Wayne Collier on Mar 12th 2022
Is A Solid Wood Bench Good For The Outdoors?
There are two main factors; the type of wood used in construction and how the wood is finished. Those aspects will have the greatest impact to determine how long the bench will survive and look great in an outdoor environment.
Type Wood for Outdoor Bench
There are many types of wood to choose from, with weight and cost being two of the most important influences of choosing what is best for you. The top 5 woods used in outdoor furniture manufacturing would be Cedar, Cypress, Yellow Pine, Teak and White Oak. The below chart shows cost and weight per board foot.
Type of

Wood

Cost per

Board Ft

Weight per Board Ft
Cedar
$6
2.7 lbs
Cypress
$4
2.7 lbs
Yellow Pine
$3
3.0 lbs
Teak
$47
3.3 lbs
White Oak
$11
3.9 lbs
Source:

https://www.woodworkerssource.com/
Teak and White Oak being the most costly and heaviest woods to use for an outdoor bench. Many woodworkers will shy away from those choices because of raw material and shipping cost being more expensive. If you are looking at higher end furniture for your outdoor space or you are doing a DIY project and not as cost sensitive Teak or White Oak will be a good choice.
The majority of outdoor benches will be built from Cedar, Cypress or Yellow Pine, these types of wood are the least expensive and lightest in weight. The Cedar and Cypress woods naturally resists rot, decay, fungus, and repel insects. Pine is the strongest but will need some treatment to make it more resistant to the outdoor elements, and the most affordable.
Types of Finish for Outdoor Bench
How you finish your outdoor bench will have a major effect on how it last outside. The most common would be stain and clear coat finish, easy to apply and readily available. The oils tend to need a little more maintenance than the clear coat counter parts. The oils work great on Teak and Cedar showing the woods richness and beauty, however they will need to be re oiled to keep the look up twice a year. The clear coat apples over bare wood or stain will last several seasons before needing to be recoated.
Pine and White Oak tend to accept stain better than the other three types of wood. If you have a specific color you want definitely should consider one of those two. A stained solid wood bench can bring you the results to pull off the look you wanted. A perfect way to make your existing outdoor furniture match your new outdoor bench. The oil base stain tends to penetrate the wood better than the water base stain, rubber gloves are a must when staining for those planning on a DIY project.
Once the stain has dried at least 4-6 hour, applying a good outdoor Spar Urethane is the key in giving the outdoor wood bench the resistance it needs to be protected from nature's elements. Actually several coats are a must, three coats are recommended. For the DIYer's allow each coat to dry 2 hours lightly sand with 220 sandpaper before applying next coat, three to five coats will last the longest time. A correctly applied clear coat gives the outdoor wood bench the best defense to survive multiple seasons without recoating.
No matter what finish you choose to use, maintenance is the key; don't allow leaves to sit for long periods of time, sit in water puddles, set in inches of snow for weeks, be prepared to recoat every other year or re oil twice a year. This will make huge difference in the life of your outdoor wood bench.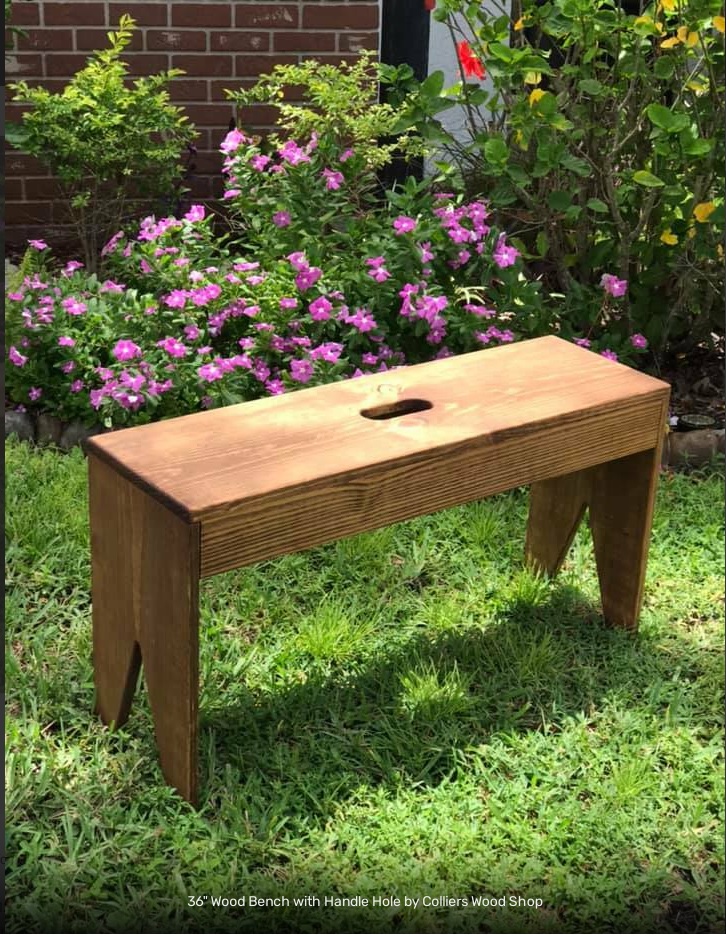 Conclusion
The best Outdoor Wood Bench would be Yellow Pine with stain and clear coat, this combination has the has the best value, the strongest wood, excellent wood for staining, and is lightweight, which makes it easy to move, with proper care a Solid Yellow Pine Wood Bench will last you 10 years or more.